installation
How to install After Toolkit
1.
Download
After Toolkit from the link provided in your confirmation email.
2.
Extract
the content of the Zip file, launch the installer, and follow the on-screen instructions.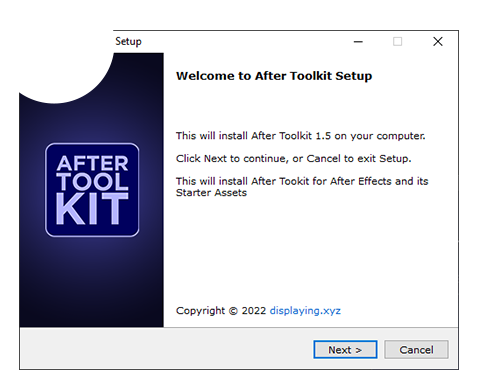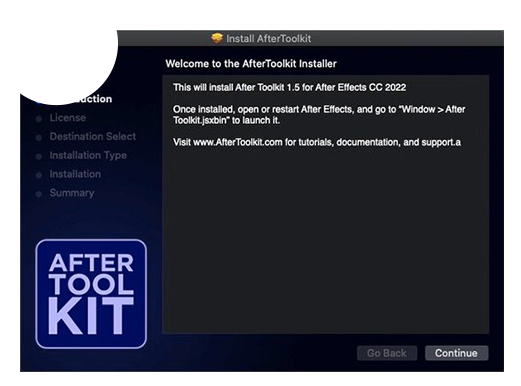 Both Windows and macOS versions contain 2 installers, one for After Toolkit and one for the
Starter Assets
.
3. Open After Effects and make sure
Allow Scripts to Write Files and Access Network
is checked in Preferences > Scripting & Expressions.
4.
Click on "After Toolkit.jsx"
at the bottom of the "Window" menu.
Version History
After Toolkit updated features and bug fixes
---
Version 1.6 - April 30, 2023

- String: Added multiple categories to String Lists. Extended existing categories.
- Starter Screen: Each generated screen is now only made of Starter Assets

---
Version 1.5 - April 14, 2022

- Random Position: Fixed random X and Y values
- Timecode: Fixed frames conversion and seconds rounding up
- String: Added comma, quote, and double-quote as options in Random String dividers
- DNA: Added Strand Width slider to the Effect Controls Panel
- Mimic: Fixed scaling issues with Shape layers
- Roll: Added Random Seed slider
- Timecode: Added Increment and Frequency sliders to the Effect Controls Panel


---
Version 1.4 - January 12, 2022

- Scroll: Added Animation Type and Random Seed options in the Effects Control Panel
- Popup notification appears when checking for updates
- Asset Packs: New option to insert an asset at Timeline cursor or at Composition starting point
- Frames: Horizontal margin and vertical margin are now 2 separate sliders
- Swipe: Fixed skipped Probability bug
- String: Added the Uppercase checkbox to the Effect Controls Panel


---
Version 1.3 - November 13, 2021

- Master Control: Added Keep Ratio slider for Transform Scale properties
- Wipe Transition: Fixed opening pauses not always starting at layer's in-Point
- Masks to Layers: Fixed generated precomps position when the original layer is parented
- Crop: Improved Anchor Point management and parenting management
- Oscillate: Added the "Both" option in Oscillation Type
- Step Sine: Added Random Seed slider
- Frames: Negative margins are now possible
- Asset Packs: Recently added assets have a green dot next to their name


---
Version 1.2 - September 5, 2021

- Flip Layers: fixed applying the effect to multiple layers at once
- Frames: Added the option to frame selected layers only
- Cross Guides: Fixed centered ruler guides creation
- Barcode: Added QR codes squares and color selection
- Vignette: Merged Color Vignette and Blur Vignette into one precomp containing both effects
- Echo: Now creates a single precomp placed below your layer and containing all the echo copies
- Trail: Now creates a single precomp placed above your layer


---
Version 1.1 - July 25, 2021

- Timecode: Fixed conflicting markers when applying script to an existing timecode layer
- String: Removed Activate Typewriter option and added word by word typing option
- String: Added "Convert to static text" option for selected strings
- Cross Guides: The generated shape layer is now a guide layer by default
- Layer Grid: Added negative margin values
- Vignette: Added sharpness negative values


---
Version 1.0 - July 6, 2021

- String: Added typewriter option, added multiline option, refactored settings panel
- String: Added Technobabble category
- String: Added new dividers for Random String
- Random Frames: Fixed layer selection issue
- Mimic: Added Minimum Delay, Maximum Delay, and Random Seed sliders
- Echo: Added Minimum Delay, Maximum Delay, and Random Seed sliders
- Crop: Added the option to select an existing parent for the precomp


---
Version 0.9 - June 29, 2021

- Add Expression: Added custom presets: save, load, edit, and delete your own expression presets
- String: Lists of values can now be played randomly or sequentially with or without a value offset
- String: Added empty field verification
- Random Frames: Refactored sliders in the Effects Control Panel


---
Version 0.8 - June 27, 2021

- String: Added custom presets: save, load, edit, and delete your own string presets
- Cross Guides: Added the Layers Edges option to draw guides along every selected layer's edges, or across their center
- Cross Guides: Added Creation Method selection: ruler guides or shape layer
- Hold: Refactored expressions for more flexibility
- Hold: Added dynamic Speed Up option in the Effects Control Panel


---
Version 0.7 - June 15, 2021

- Layer Grid: With multiple layers selected, the top-left layer is now the master layer
- Scan: Dynamic positioning of the line depending on its width
- Crop: Added the "One precomp per layer" option
- Crop now works with negative scale values
- Transfer: Added Adaptive Scale and Adaptive Rotation options
- Fixed Remove function for Transfer and Glitch scripts


---
Version 0.6 - June 12, 2021

- Universalized expressions and effects names to run in any language
- Slide blur direction dynamically adapts to sliding angle
- Randomize Scripts double parenthesis fixed
- Redirected all Help buttons to respective online tutorial pages
- Added Help button to Extend and Flip options panels
- Added Help button to Shortcuts Bar options panel
- Added Pause Duration option in Chain Swap
- Changed scaling method in Spread to native transform for duplicates
- New settings panel for Cross Guides


---
Version 0.5 - June 6, 2021

- New Settings panels for all Randomize scripts
- Added a Random Seed slider in the Effects Control Panel for all Randomize scripts
- Changed Random Exposure range values to -10/10 instead of -5/5
- Simple Loop extend feature now works with static images
- Mimic layers adjusted for more precision
- Fixed multiple layers selection in Loop Animations
- Fixed multiple layers selection in Randomize scripts