After Toolkit > Loopers > DNA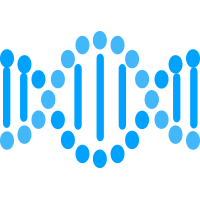 DNA
Animate layers in a DNA double helix

Make a double helix DNA strand animation with your layers.
DNA animates two rows or two columns of layers in a helix shape.
DNA
DNA - Quickstart Guide
---
Open your After Toolkit, select the layers you want to animate in a DNA shape - select the first half of the layers, then shift select the second half - and click on
DNA
.
If you selected two horizontal rows of layers, your DNA Orientation should be set to Horizontal. If you selected two vertical columns, set your DNA Orientation to Vertical.
---
DNA Duration is how long one fluctuating cycle should last, until your layers retrieve their original position.
---
The higher your DNA Twist Density is, the more your helix curves will cross.
---
Your selection order matters, the first half of your selected layers will move in an opposite motion to second half.
---
This script works best if you select an even number of layers, as it will simulate a DNA animation with the first half of your selection moving in a sine wave, and the second half moving in an offset sine wave.
---
Once you hit OK, a Control layer is created, allowing you to edit settings though its Effect Controls Panel.
Everytime you apply custom settings, they are saved for the next time you use it again. Reset to default values will revert to original settings, before you ran it for the first time.
---
DNA in action: