Free Tools > Messengers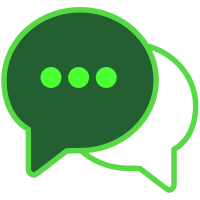 Messengers
Text messages generator for After Effects.

Create and animate realistic chat conversations in After Effects.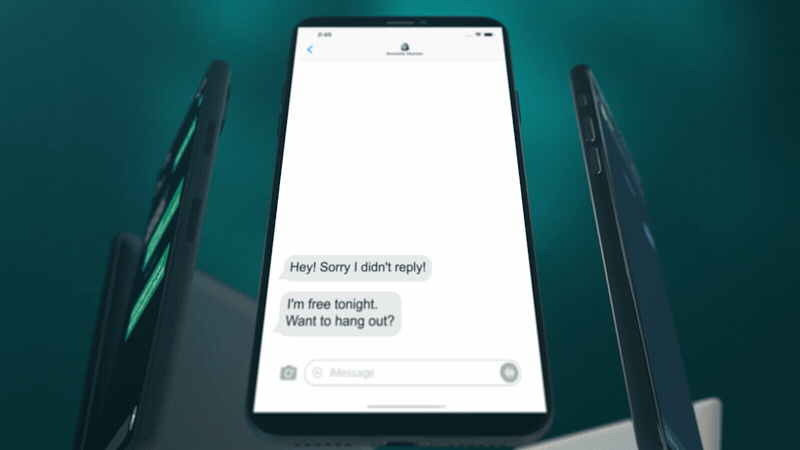 Sign In to Download
Watch the Demo Video
Messengers is an instant message generator. It allows you to generate believable conversations within seconds, customize and animate them with simple sliders and color pickers.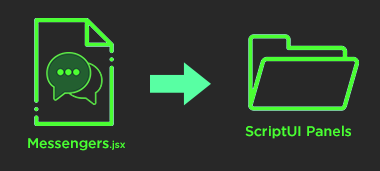 Messengers Quickstart Guide
---
Download the latest version of Messengers, using the Download button above.
---
Extract the content of the downloaded Zip file into your ScriptUI Panels folder:

MacOS: /Applications/Adobe After Effects (version)/Scripts/ScriptUI Panels

Windows: C:\Program Files\Adobe\Adobe After Effects (version)\Support Files\Scripts\ScriptUI Panels
---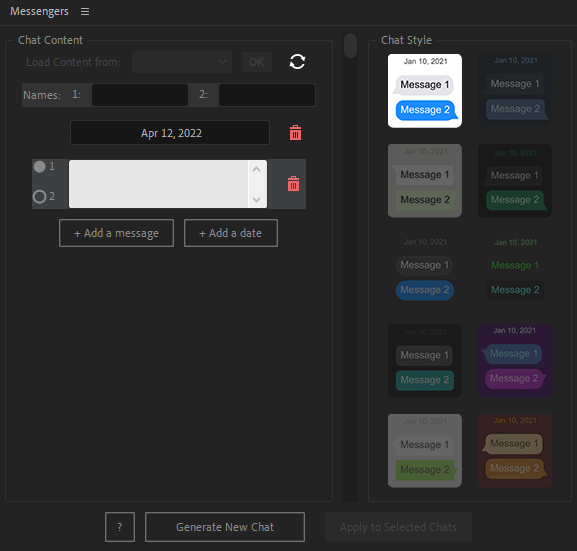 Open After Effects, and click on
Messengers.jsx
at the bottom of the
Window
menu.
---
The left side of the panel is your
Chat Content
, where you type your conversation or load an existing one.
The right side allows you to pick a
Chat Style
, that you can later customize at will.
---
On top of your chat content panel, you can enter
the names of the two persons chatting
(person one = left bubbles / person 2 = right bubbles).
Names will appear on top of each starting bubble.
Leave them blank if you don't want names to appear.
---
By default, your chat content contains a date and an empty message box. You can add, edit, or delete any element.
---

The
1 and 2 radio buttons
at the left of each message's text area set the chat bubble as person one (left bubble) or person two (right bubble).
---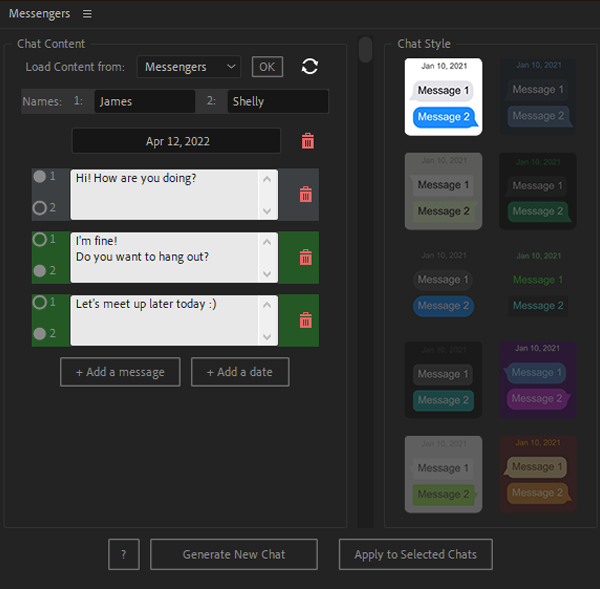 If your active composition contains one or more generated Messengers chats, click on the
reload icon

to list them into the
dropdown menu
.
You can then select one and hit
OK
to load its content.
---
You can then generate a new chat from this content, or edit your existing chat.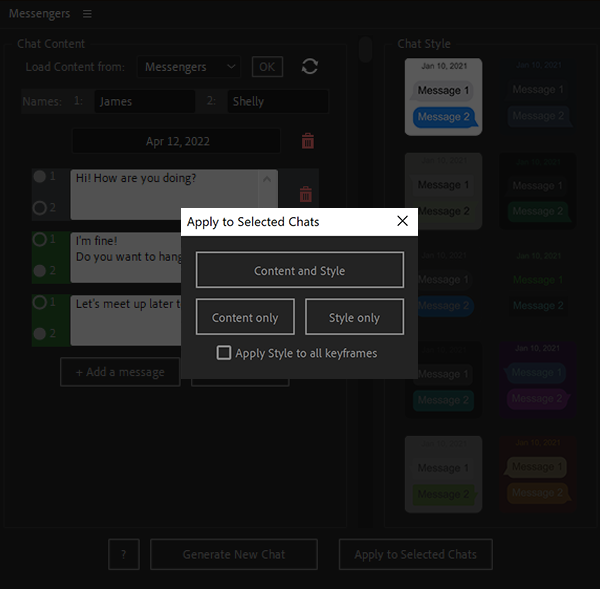 If you select a Messengers layer and click on Apply to Selected Chats, you'll be able to apply only the Chat Content, the Chat Style, or both.
---
If your selected layer's Messengers Settings has keyframes and you apply a new style to it, checking the Apply Style to all keyframes box will make your chat style the same across all keyframes.

Unchecking this option will apply your new style at the current composition time, creating new keyframes for keyframed properties.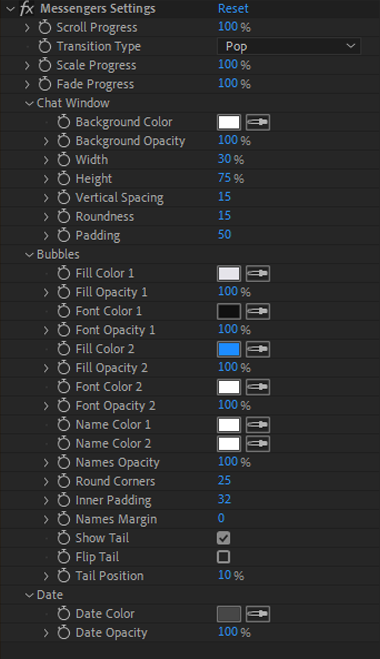 For each new Messengers chat you create, the script generates one shape layer named Messengers [#] (you can rename it) and as many text layers as your chat's number of text fields.
---
Edit your chat from your Messengers shape layer's Effect Controls Panel.
---
Scroll Progress makes your conversation go up and down.
Transition Type drives how your messages behave when scrolling out of the chat window: Pop just makes them turn off when out of boundaries, Fade smoothly fades them out just before exiting, and None makes them remain visible at all times.
---
You can combine your scroll animation with Scale Progress and Fade Progress, respectively making your messages scale up one by one from top to bottom, and fade in one by one from top to bottom.
---
The Chat Window settings allow you to customize your chat's background and canvas properties.
---
Width and Height are relative to your composition's dimensions, and make your chat's frame resize without scaling its inner elements.
---
Vertical Spacing sets the amount of pixels between each chat bubble.
---
The Bubbles settings allow you to customize the color, opacity, and visual details of each side of the conversation.
---
Date settings only apply to date fields, if you added dates to your chat.
---

You can change each generated message text layer to Three Dots through its Effect Controls Panel.
It allows you to simulate the notification of a message being typed.
---
To learn more about Messengers, watch the demo video: